こちらは熊本県に住む茶トラの福ちゃん、1歳の女の子です。飼い主様は、新しくネコちゃんを家族に迎えるにあたり、長く使えるネコ専用ベッドを探していたそうです。また、ちょうどご新築のタイミングということで、お部屋の雰囲気に似合うものをご希望でした。

数ヶ月使ってみて、福ちゃんも大満足!ウォールナットのフローリング、ソファなどのインテリアとも馴染んでいて、大変お喜びいただきました。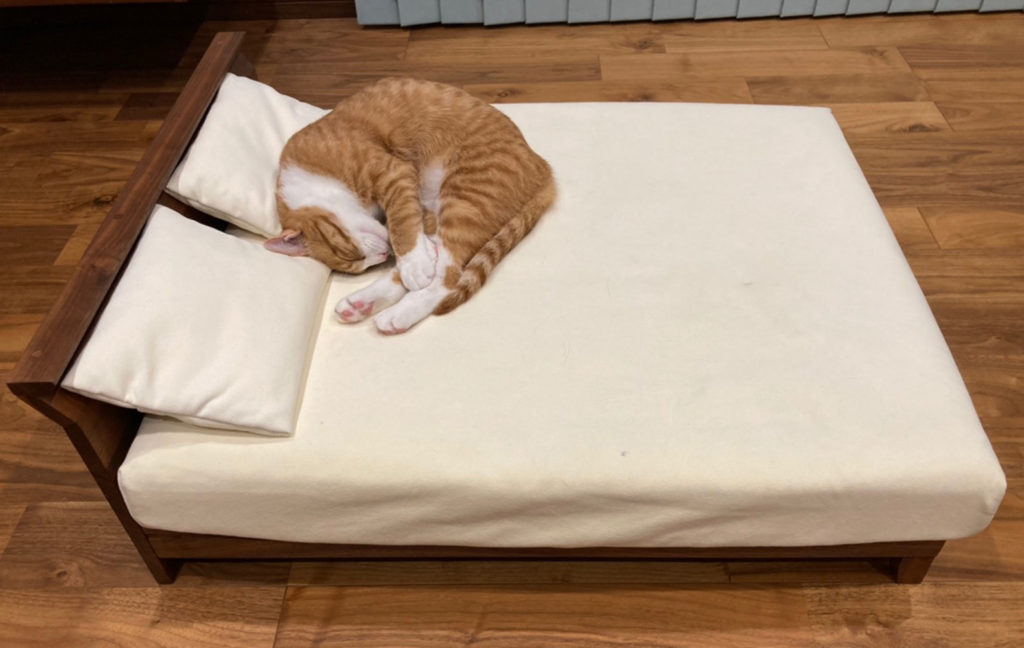 飼い主様いわく、「自分の場所だってちゃんとわかっているから、ぐっすり眠りますね。枕のあたりでま〜るくなるのが好きみたいですよ」。まさに、くるんとまるまった福ちゃんの可愛い寝姿をお送りいただきました!


 まだ小柄な福ちゃん、これからの成長が楽しみですね。またのお便りを心よりお待ちしております!
This is Fuku, a brown tiger, 1 year old girl living in Kumamoto prefecture. Her owner was looking for a bed that would last for a long time to welcome a new cat into the family. She also wanted a bed that would match the atmosphere of her new home.

After a few months of use, Fuku is very happy! It blends in well with the walnut flooring, the sofa and the rest of the interior and she is very pleased with it.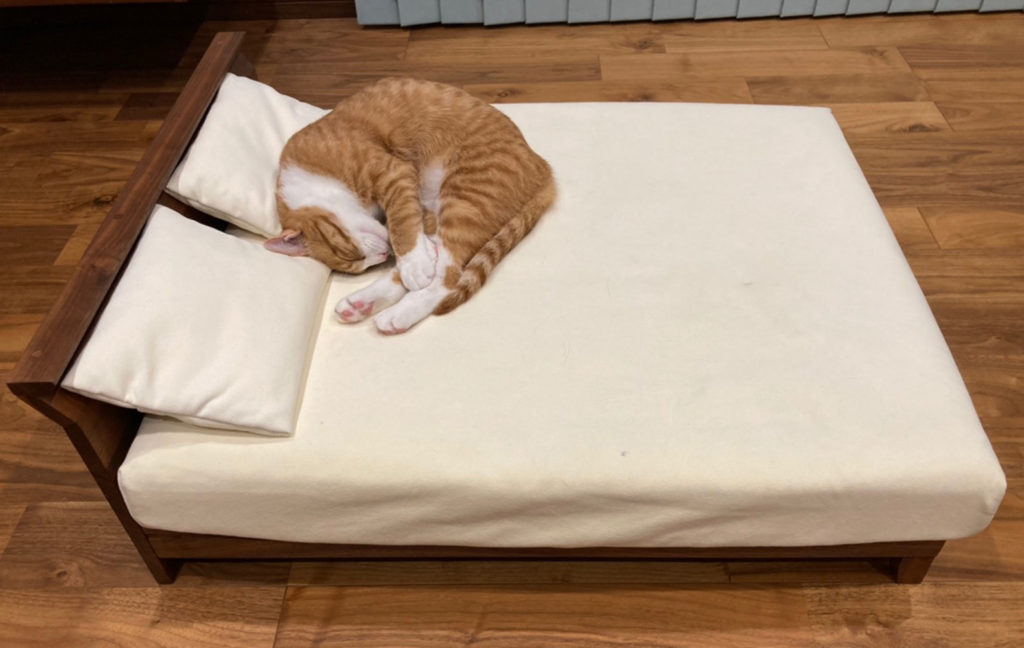 Her owner says, "She sleeps well because she knows exactly where she belongs. She likes to curl up around the pillow. We received this lovely picture of Fuku curled up in a ball!


Fuku is still very petite and we look forward to seeing her grow. Also we look forward to hearing again soon!
Voici Fuku, une petite fille de 1 an, tigrée brune, qui vit dans la préfecture de Kumamoto. Sa propriétaire était à la recherche d'un lit qui durerait longtemps pour accueillir un nouveau chat dans la famille. Elle souhaitait également un lit qui correspondrait à l'atmosphère de sa nouvelle maison.

Après quelques mois d'utilisation, Fuku est très heureuse ! Il se marie bien avec le parquet en noyer, le canapé et le reste de l'intérieur et elle en est très satisfaite.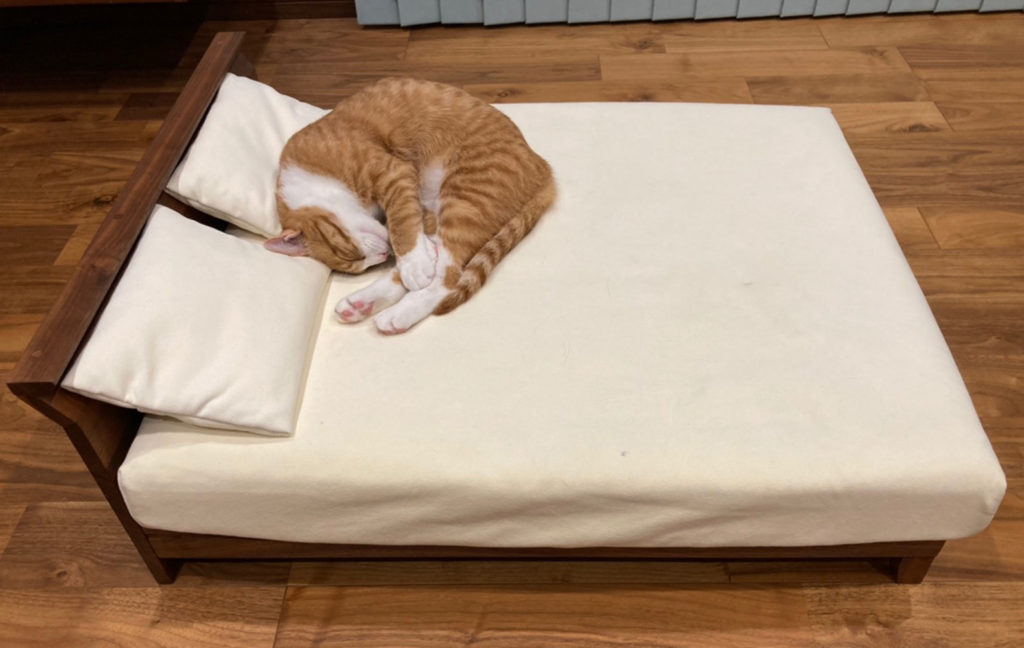 Son propriétaire déclare : "Elle dort bien parce qu'elle sait exactement où est sa place. Elle aime se blottir autour de l'oreiller. Nous avons reçu cette belle photo de Fuku-chan en boule !


Fuku est encore très petite et nous sommes impatients de la voir grandir. Nous nous réjouissons également de vous entendre à nouveau bientôt !
Dies ist Fuku, ein braun getigertes, 1 Jahr altes Mädchen, das in der Präfektur Kumamoto lebt. Ihre Besitzerin war auf der Suche nach einem Bett, das lange halten würde, um eine neue Katze in der Familie willkommen zu heißen. Außerdem wollte sie ein Bett, das zur Atmosphäre ihres neuen Zuhauses passt.

Nach ein paar Monaten der Nutzung ist Fuku sehr zufrieden! Er fügt sich gut in den Nussbaumboden, das Sofa und den Rest der Einrichtung ein und sie ist sehr zufrieden damit.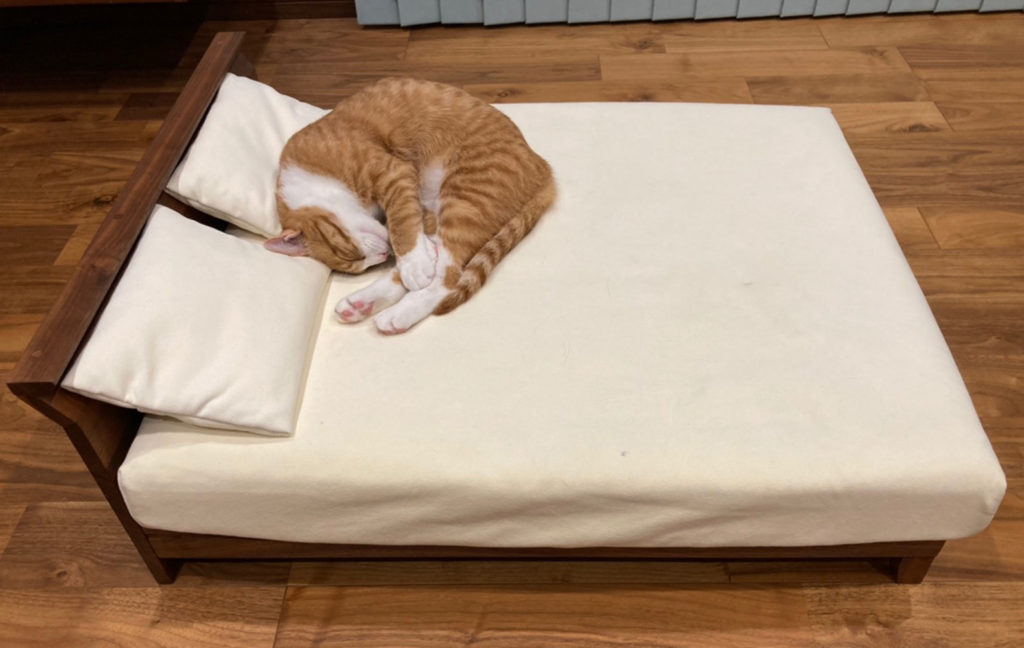 Ihr Besitzer sagt: "Sie schläft gut, weil sie genau weiß, wo sie hingehört. Sie liebt es, sich um das Kissen herum zusammenzurollen. Wir haben dieses schöne Bild von Fuku erhalten, wie sie sich zu einem Ball zusammenrollt!


Fuku ist noch sehr zierlich und wir freuen uns darauf, sie wachsen zu sehen. Auch wir freuen uns darauf, bald wieder von ihr zu hören!